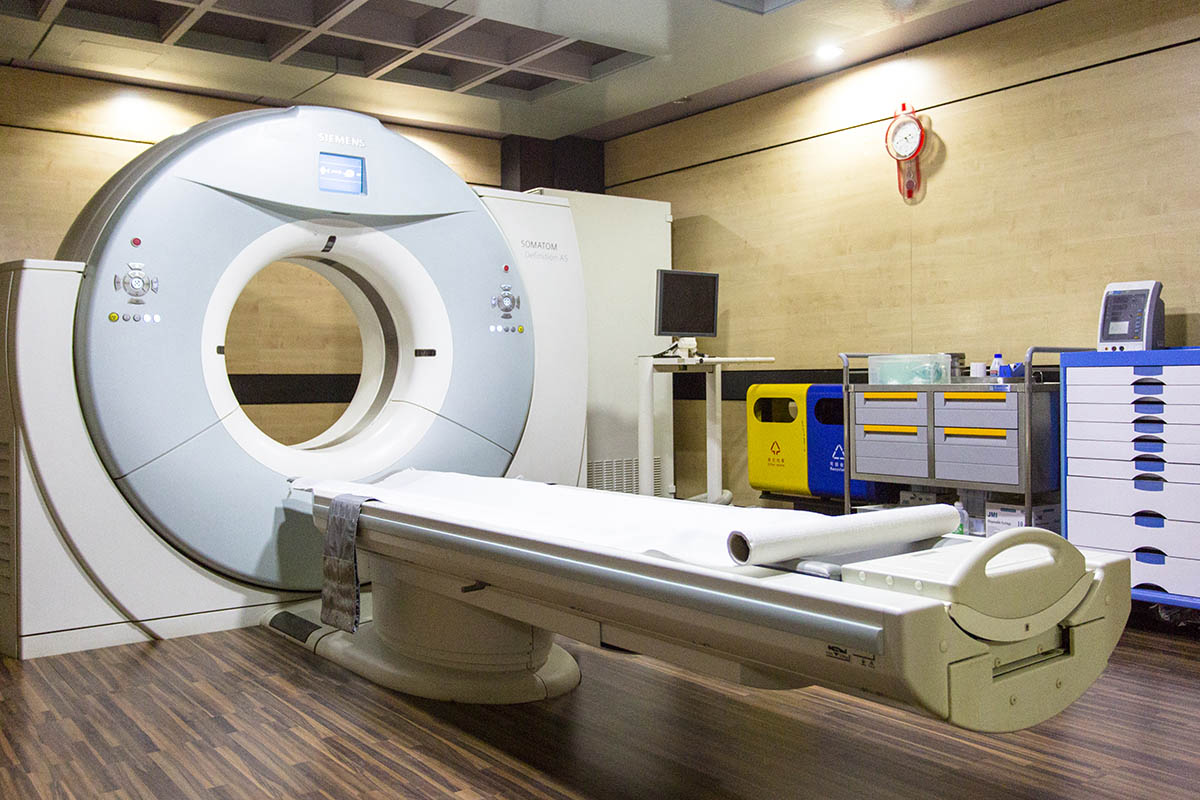 What is MRI?
Magnetic resonance imaging (MRI) is one of the most technologically advanced diagnostic tools available. It uses a powerful magnet, low intensity radio frequency pulses and computer technology to create detailed images of the soft tissues, muscles, nerves and bones in your body. In many instances, it replaces the need for x-rays, hospitalization and exploratory surgery. There are no known side effects of MRI, and it uses no radiation. Chevron Clinical Laboratory (Pte.) Ltd. offers fast exams resulting in outstanding image quality for clearer diagnosis and a patient-friendly design. The MRI Systems delivers unsurpassed diagnostic detail, providing comprehensive exams.
The department is equipped with SIEMENS Somatom definition AS+, 128 slice Cardiac CT & Syngo Via. It is a single source applying lowest radiation dose possible with faster rotation time. The scanner is capable of adapting to virtually every patient and every clinical question. Fueled by the FAST CARE platform, the SOMATOM Definition AS+ is designed to help maximize clinical outcome and raise patient-centric productivity.
The high end CT covers the whole body in seconds. Because of increased speed and resolution the CT produces excellent images of coronary arteries. In addition high resolution studies of Cerebral, Carotid & Vertebral, Pulmonary Artery, Aorta, Renal, Upper Limb, Lower Limb, Abdominal Arteries, Portal Venography, Urogram and CT Enteroclysis are demonstrated as part of the protocol. The latest upgraded software Syngo Via gives excellent reconstruction like Multiplanar Reconstruction, MPI and VRT with our equipment.
Other studies like CT Brian, Orbit, PNS, Neck, Thorax, Abdomen, Spine, Extremities, High Resolution CT of Lung, Temporal bone & joints are routinely done.
The CT scan are also used for procedures like guided fine needle aspiration cytology and biopsies from masses in Thorax, Abdomen, Spine and extremities. CT guided aspiration and drainage tube placement for abscess is done as well.
The department is equipped with SIEMENS Magnetom Avanto 1.5 Tesla 18 Channels Supercon MRI (Software Version: MR- B 17) a noninvasive imaging that helps Physicians diagnose and treat diseases.
MR imaging uses a powerful magnetic field, radio frequency (63 MHz) pulses and advanced computing to produce detailed images of organs, soft tissues, bone and virtually all other internal body structures. The signals are reconstructed by high end processors this reconstruction also can be made into three-dimensional images, allowing complete and remarkable visualization of the anatomy scanned from various angles. The images are studied by skilled radiologists on the computer monitor and then printed or copied to CD.
Detailed MR images allow physicians to better evaluate parts of the body and certain diseases that may not be assessed adequately with other imaging methods such as X-ray, ultrasound or computed tomography (also called CT or CAT scanning).
MR Mammography, SVS (Single Voxel Spectroscopy) and Cardiac MRI are the recent advantage of Magnetom Avanto 1.5 Tesla 18 Channels Supercon MRI.
The high end MRI System Cerebral, Carotid & Vertebral arteries are demonstrated. Other studies like Neurology, Orthopedics, Body Imaging, Prostate MRI, Pediatric MRI, Oncology and MR Angiography are routinely done.
Limitations of MRI
MRI are still contraindicated in those circumstances- Patient having Cardiac pacemaker, Metallic implants, Aneurysm, Coronary Stent (Magnetic) and Pregnancy (4 months of pregnancy- No known harm but safety of infant from radio-frequency).
Certain types of MRI scans require the use of a safe para-magnetic agent or contrast media. This is to enhance the blood vessels or certain body parts for the accuracy of your imaging test. The Food & Drug Administration (FDA) has requested manufacturers of gadolinium based contrast add additional warnings to their product labels. To read the FDA warnings regarding gadolinium contrast agents visit their website and view "The Information for Healthcare Professionals" document. You should receive complete instructions concerning the use of a contrast agent from your physician when he or she orders the test. Tell your physician before your exam if you have ever had an adverse reaction to contrast media.
Types of

MRI
Different types of MRI are offered at specific imaging center locations, some include:
Angiography (MRA) – Vascular anatomy visualized
Breast MRI
Cardiac MRI
MRCP – MRI of hepatobiliary and pancreatic system
Neurology/Central Nervous System
Orthopedic
Spectroscopy
Conditions Diagnosed by

MRI
Bone Cancer
Brain Cancer
Head & Neck Cancer
Kidney Cancer
Liver Cancer
Pancreatic Cancer
Stomach Cancer
Uterine Fibroids
Preparing

for your MRI
In general, there are no special preparations to follow before your exam. Because MRI uses a strong magnetic field, metal objects may interfere with the scan. For your convenience, we provide a place to store your keys, jewelry and other valuables during the exam. We ask that you wear comfortable, loose-fitting clothing, but you may be asked to change into a hospital gown for image quality and safety reasons.
Please check the following list carefully. All metallic/surgical implants must be assessed for safety before undergoing any MRI procedure. Common implants that may not be safe for MRI procedures include the following:
Pacemaker
Aneurysm clips in the brain
Inner ear (cochlear) implants
Implanted spinal cord stimulator
Metallic implants
Metal fragments in one or both eyes
Also, please alert our staff if you:
Have dental bridges
Wear a hearing aid(s)
Have ever been a metal worker
Are pregnant or think you might be
Because a paramagnetic agent (a type of contrast media) may be used, please tell your physician if you:
Are pregnant or think you might be
Are breastfeeding
Have anemia or any diseases that affect red blood cells
Have asthma or other allergic respiratory disorders